From the 2019-2020 school year, the "Learn With Ollie" English program for Bilingual students and the "Crickets" program for International students will be implemented in a synchronous manner at some facilities on the system. Sakura Montessori Preschool includes Ha Dong, Thuy Khue, Luong Yen (Hanoi), Ha Long, Ho Chi Minh and Duong Kinh and Le Hong Phong campuses (Hai Phong).
English program
Effective method of learning English for children at Sakura Montessori preschool
Sakura Montessori trains English teaching methods for teachers
Learn With Ollie (1) and Crickets are Richmond Publishers' English language training programs selected and developed by the Montessori Preschool and Science Research Council to suit the learning needs of the school. born at SMIS. Designed specifically for students who use English as a second language, according to the European reference framework, the innovation of the English program across the Sakura Montessori system will create strong impact, ensuring the unified curriculum, promote children's ability to develop the English language in the Early Childhood period.
Learn With Ollie: Create a long-term language development platform
Compared to the previous "Jolly Phonics", the English Learn With Ollie program has positive changes from the system of lessons, materials and assessment of children's English output.
With "Learn With Ollie", children will learn English in 3 levels with a variety of lesson content, in many areas, including: science, art, math, movement, cuisine … and many familiar, close and realistic topics such as school, teachers, friends, family, school supplies, big festivals….
According to Ms. Tran Thi Thu Huong – Member of the Scientific and Pedagogical Research Council of Sakura Montessori Preschool system, the system of lessons in English Learn With Ollie program is arranged on scientific criteria, ensuring appropriateness according to the child's natural growth rate. On that basis, Sakura Montessori Kindergarten simplifies the materials according to the inviting, charismatic and curiosity characteristics of each child.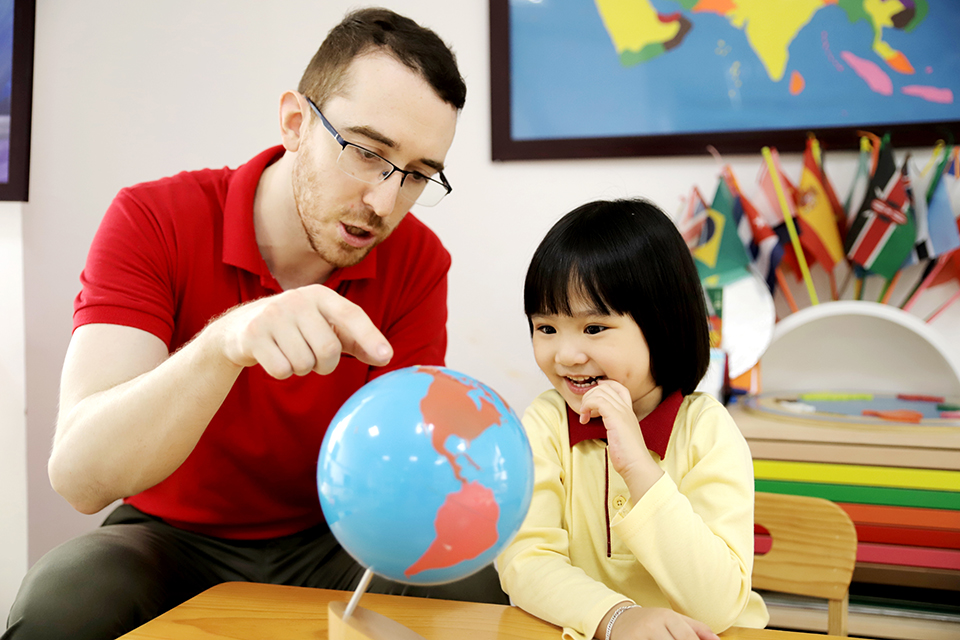 Instead of using difficult and long stories and songs, Learn With Ollie uses colorful, vivid images, content stories or short songs, rhyming lessons attached to everyday life. children's day … As a result, children can easily access natural English and penetrate the language more deeply and sustainably.
In particular, the English Learn With Ollie program also ensures to give children the freedom, comfort in learning, connecting with teachers and friends. Ms. Thu Huong added: "Learn With Ollie not only teaches children to learn English properly and positively at an early age but also stimulates the development of social, emotional and spatial skills of children by encourage children to work together, play together, solve problems and use basic language knowledge. Since then, through daily learning, Sakura students will promote the core values ​​of a global citizen such as Independence, Confidence, Discipline, Respect, Love and Spirit. Working together to succeed. "
With a clearly decentralized curriculum, ending the entire program, Sakura Montessori expects children to own vocabulary up to 680 words, 160 English structures and use sentences with 5-6 words in English. Brother.
Crickets: Create today – Master tomorrow
The Crickets English program is based on the constructivist learning method, which is consistent with the Montessori method at the Sakura Montessori Preschool system.
Accordingly, the Crickets program focuses on five basic steps including Interest, Discover, Explain, Connect and Evaluate to ensure that children are attracted to, easily acquire knowledge and reflect vocabulary. Equipment.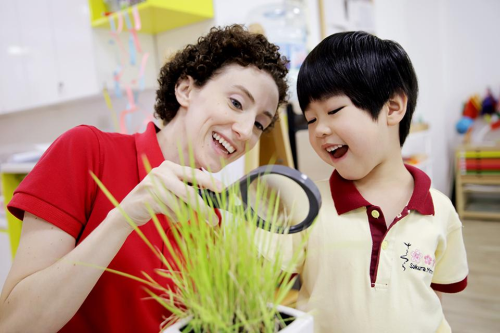 Through the Crickets English program, children can acquire more vocabulary about many different fields
Through learning from real experience, children "learn, play, and record knowledge" with many fun and interesting activities around many topics and materials from real life. Children feel themselves are gradually building English language for themselves by learning and learning in 5 steps of learning method.
Native teachers are the "sustainable bridge" that connects children with English games, stories, songs, … By teaching techniques such as TPR (Total physical response) subjects (teaching English through Science, Arts, Advocacy, etc.), teachers encourage children to actively communicate and use the senses to feel and manipulate with different learning activities.
Crickets does not focus exclusively on pronunciation or practice too much, instead, the program brings comfort, freedom, and coercion to the International System's children at Sakura School. Since then, the Crickets program evokes the potential available in each child to promote cognitive development and help children be ready to face challenges ahead.
At the preschool level, the Crickets program will help children have basic knowledge such as learning numbers, letters, vocabulary and speech. Children can record 620 vocabulary and about 300 structures, have the ability to sequence a story in English, follow instructions of 2 to 3 steps without embarrassment, develop critical thinking , skills in reading, writing, Math thinking, …
Having a team of qualified and qualified native teachers, surely, through the international standard English program, Sakura Montessori will create an international living environment for preschool children, helping I promote the potential internal resources, diversify cultural colors for global integration.
In the upcoming school year 2019-2020, at Sakura Montessori campuses, children are taught intensive English taught by 100% native speakers. Sakura School will also continue to maintain the integration of the English language program during daily Montessori classes to give children more opportunities to study and improve their ability to communicate in English.
Huyền Thư